Custom Built Computer Systems
by Sean Unrau
(St. Catharines, Ontario, Canada)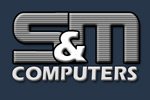 Custom Built Computer Systems
Choosing the Right Computer:


Whether you're a Gamer, Internet addicted student or caffeine driven professional, you want a computer, with the right computer parts that can do the job you want. Customizing your PC with the right computer hardware can mean the difference between getting the job done on time, or getting owned. Upgrade your PC satisfaction after you install computer parts that suit your needs whether that be extra RAM, a faster CPU or a new Graphics Card. Or build your personalized computer from individual computer components and purpose build it for exactly what you want. Upgrading your PC with the right parts, can put your computer a step ahead of the rest, improve productivity, and create ease of use.
Our Mission:
When you shop with S & M Computers, you'll choose from brand name computers—the industry's top names—at prices simply not possible anywhere else. But that's just the beginning. We also carry a vast inventory of components: motherboards, processors, hard drives, optical drives, cases and more. You'll find emerging technologies as well, because at the end of the day, we love what we sell.
Our Commitment to our Customers:
S & M Computers has been serving the needs of each and every customer who calls or logs onto our web site. S & M Computers offers the latest brand name pc computer products. Whether you are a diehard gamer, over clocker or PC enthusiast, we guarantee that you will enjoy our quality products and services!
We welcome you to explore our website and discover our rich selection of name brand computer products including: Acer, AMD, Apevia, Apollo, Asus, BenQ, BFG, Centon, Corsair, Crucial, EVGA, Gigabyte, I-Inc, Intel, LG, Lite On, Logitech, OCZ, Plextor, Sapphire, Sony, Sparkle, Ultra, Western Digital, XFX and many other top rated companies, all at competitive prices.
We are constantly updating our product line to serve you, our customers, with the widest selection of leading edge computer products that you simply cannot find elsewhere. We are confident that you will agree that S & M Computers is the ultimate online store for computer products.
Go to S&M Computers Website