Your Internet Marketing Website
Free Advertising and Resource Center
Before I introduce myself, let me let those of you who don't know about our free internet marketing website advertising. I don't give you just a little text ad, but a full blown webpage with full blog and comment capabilities.

I'll even show you how to create active clickable links to your own website, write effective sales copy, and generate targeted traffic which will translate into your most wanted response. (ie. A sale, signup, warm lead, inquiry, etc.)
---
OK, did you come here for resources to build or promote your own internet marketing website? Great, then keep reading, you're really going to like this. First let me take a minute to introduce myself.
I'm Zac Hawkins, I got involved in network marketing back in the mid 1970s with one of the big MLM companies which is still around today. Yes I went to all of those convention rallies, and even did the home presentations to anyone I could get interested in my business opportunity.
A Dramatic Change in Marketing
Wow, when I think back on those days I cringe. What a difference the internet has made in marketing! I have been working online almost exclusively since the 1990s. In that time I have seen marketing strategies evolve online in a dramatic way.

I've built so many websites quite frankly I've lost count. I'd be embarrassed to show you some of my earlier ones. Fortunately through trial and error, I finally found the best web hosting company in the world which gave me the knowledge and resources to build a successful internet marketing website like this one.

Let me share a little marketing story with you. About ten years ago, I developed a unique product that I wanted to market in a very big way. I decided to go the direct TV route. My product was so good, I even had the largest direct TV advertising company interested in promoting it. (you know the one with the acne product)

Anyway, since I learned they keep 99% of the profits and get exclusive rights to your product, I turned them down. Instead I had the brilliant idea of going it alone. So, I spent nearly $50,000 developing the product and doing a test campaign on TV.

Well, I might just as well have taken $30,000 dollars of that and threw it out the window. What I ended up with was $20,000 worth of product and a sour taste in my mouth for direct TV advertising.
If You Build It, Will They Come?
I had already built a website to take orders for those who didn't want to call the toll free number in my TV ads, which no body wanted to, LOL. But not only was my website substandard, but the only traffic I was getting was traffic I had to buy.
This proved to be ineffective since my return on investment just wasn't cutting it. But I wasn't giving up, I searched and searched for resources that could help me market my product in a very competitive market.
If You Site Build It, They Will Come!
Then, one very special day, I found the web hosting company called Site Build It. I go into the company and their services on my review page, but let me just tell you what I soon learned from them.
I was going about it all wrong focusing on my product, instead of providing useful information to problems people where looking for online related to my product.
Do you see the difference? Instead of buying traffic and sending them to a product page with a short description and a buy now button, I started building pages with useful content that gave my readers answers to their problems.
What a coincidence I just happened to have a product I could recommend after pre-selling them on the solution to their problem! And you know what the best part was? SBI taught me how to drive tons of targeted traffic to my website for free.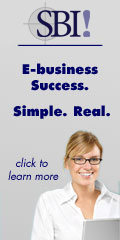 Well, that's been years ago now, and my first successful internet marketing website is still up and going. Fact is, it currently receives about a half a million page views a year in a highly competitive market.

I built it back then using the site building tool SBI provides for those who don't know HTML or anything about website building.

I purposefully have kept the simple design I originally built it with to share with those who don't think they can build a decent website without hiring someone.

Take a look at it if you want by clicking here. Not bad for my first successful internet marketing website, huh? Would you believe at last count that site has over 500 pages?


Nowadays I upload my own HTML and have obviously gotten much more complex with my website design. I could not have done any of this without SBI and all they have taught me over the years.

Well, that's just a short version of how I've gotten where I am today with internet marketing and building successful websites. Now, let's concentrate on helping you build and promote your online business and future.

Nearly all of the pages on my site have a build your free advertising page form on them for you to promote your online business. It is very important that you read my instructions for building an internet marketing website ad here first. It only takes a few minutes and will make the difference on how successful your ad is.

Oh, and BTW, be sure to surf around my site for tips and techniques on numerous internet marketing website topics.

Best wishes for your success,
Zac
Advertise Your Website
This is my about me page, but it's keyword is business marketing website since that is what my personal story relating to this business is. You can advertise your website here, anything relating to the internet, online, websites, marketing, etc. fits here.

What Other Visitors Have Said
Click below to see contributions from other visitors to this page...