Work From Home Internet Scams
Find Report Rate Review Online Scams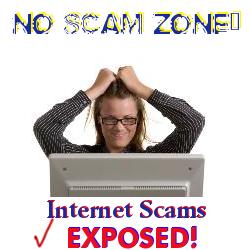 Unfortunately internet scams have been around from the beginning of the world wide web.

The old saying "if it sounds too good to be true it probably is" is a good guildline when evaluating any online business or work from home opportunity.

It's not always as easy as you think to determine if in fact any opportunity is an outright scam or simply over hype with a very small percentage of the members actually being successful.

When it comes to money people of low character seem to come out of the woodwork. Let's expose them together!





With Our Internet Scams Alert Forum You Can
Find honest reviews of popular online work from home opportunities
Post your own reviews of internet programs
Ask questions from those who have first hand experience
Rate programs others have shared
Learn how to avoid being scammed
Find legitimate alternatives with proven success
Help us make the internet a better place to do business
---
Our priority is to share our decades of collective online experience to help others learn from the mistakes and lessons we've gone through the hard way. No one likes being scammed, but at least we can benefit from it and help others at the same time.
When posting a review of any online business opportunity please be a descriptive as possible as well as sharing any proofs, documents, images etc. to present your case.
There is no member login required to post or comment at our Internet Scams Forum.
Internet Scams Forum
No Login Required
Search our forums for scam alerts or post your own comments or questions regarding any online internet business or program you like. Rate and comment on any post in our forums pro or con. Your experience helps others keep from being scammed as well as answers to your questions will help countless others too.


Post Your Comment To Internet Scams Forum
Do you have a internet program or business you want to include in our forums? Please start a topic here if you want to write your own scam alert/review or ask questions from others members about any online opportunity.
Browse Our Other Internet Scams Forum Topics
Click below to see contributions from others and feel free to comment or ask any questions you have.