Do Your Kids Earn Pocket Money?
by Dee
(Australia)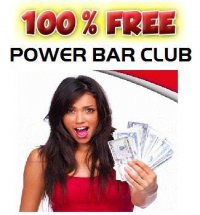 When I was first introduced to the Power Bar Club by my good friend Janet, I was eager to jump aboard.


Being FREE was a big motivator, but I decided to look a little deeper anyway, just to reassure myself that it was on the up and up.
The more I read about it, the more enthusiastic I became, seeing a big potential for stay-at-home moms (and dads!!) who could utilize this easy toolbar to supplement their income or indeed build it into a full time income if they worked at it.
One thing however did bother me....There was a reference to "even kids can do this (13+)".
My intial reaction was not shock exactly, more of concern. Why would anyone want to push this to kids this age?
I spoke to my daughter about it, she has kids this age, and I was interested in her thoughts.
To my surprise, she actually thought it was a great idea....go figure!!! She enlightened me on her thoughts and said that most kids these days spend time on the internet and are pretty well web savvy (her words!!)
Kids are always looking for extra pocket money and she thought this was a great, safe way for them to start learning about working at making money for themselves. If they took it seriously and shared it with their friends, they could potentially start little fundraising groups in the community, perhaps for equipment at a local community centre or to support a local shelter....
So perhaps this is not such a silly idea.? It is for sure a safer way for them to make money and most parents I know do supervise their kids online actities anyway. Has to be safer than doing a paper round or working weird night hours at a take-away food chain don't you think? Oh yeah, and they will stop bugging you for pocket money......bonus!!
Sharing the opportunity is easy....it's FREE and the more you share, the more you can earn - so all in all, I think it's an easy and safe way to make some money.
Give it some thought....check out the video