Kid With a Behavior Problem?
by Steve Barancik
(virtually everywhere!)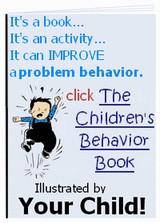 Children's Behavior eBooks
Throughout history, parents have improved children's behavior and taught moral lessons using the magic of storytelling.


Well, guess what? Our culture is now AWASH in storytelling...and the stories teach NOTHING.
Or at least, nothing good.
That's why I've written the
Children's Behavior eBooks
!
Do you have a child with a behavior issue?
Of course you do. Kids are born with behavior issues, and it's a parent's job to help them grow out of them.
My books harness the power of old-fashioned storytelling to alter behavior. (Using books to help children struggling with behavioral problems and emotional issues is called
bibliotherapy
. How does it work?
Well, the stories read like picture book stories. Each one depicts a child suffering from a particular, common behavior problem.
And when I say, "suffering," I mean it! The child in the story experiences negative consequences from his/her bad behavior. In other words...
Your kid
won't
want to turn out like the kid in the book.
Making the problem about some other kid
Have you ever noticed that when you try to correct your child's behavior simply with words, you encounter resistance?
That's because you've just challenged your child's ego. No one likes to be
told
what to do, even children.
My Children's Behavior eBooks take ego out of the equation by making the problem about some
other
kid. The kid in the book.
That's one reason they can work like magic!
Reinforcing learning with repetition
The other reason the books work so well is that they encourage repetition of the message.
When we talk about "rote" learning, we're referring to hammering a message home! Any marketing expert will tell you that repeat exposure to a message increases the likelihood of a sale.
Well, you're trying to sell your child on good behavior. Repeating the message of here's what happens with bad behavior can be tricky. (
Nagging
isn't a good selling method. It just makes people stop listening!)
The trick I use with the books is that while they
read
like picture books they're completely
un
illustrated. Why?
So that you're child can be assigned the fun job of illustrating them him/herself. Every time the child returns to color one of the pages, it's another repetition of the book's important message!
It becomes learning that your child
chooses
to do. The most effective kind!
You'll find behavior books about
lying
difficulty being alone
difficultly sleeping alone
poor cooperative play skills
poutiness
picky eating
not cleaning up after oneself
shyness
(And I'm writing more all the time. Keep checking
my behaviors page
for new books!)
What qualifies me to write the Children's Behavior eBooks?
I've spent most of my adult life writing stories professionally. I've written for the movies, for magazines, and for performance onstage. (Feel free to read my
writer's bio
.)
I've taught. I've been a foster father and a Big Brother.
I know how to spin a good story, and I know how to direct it to children.
I think you'll find my Children's Behavior eBooks affordably priced and an effective new tool for your parental toolbox. I hope you'll give them a try!