Network Marketing Success... 35 Biggest mistakes Everyone is making in MLM and what you can do about it.
by Frank G.
(SF. CA. US.)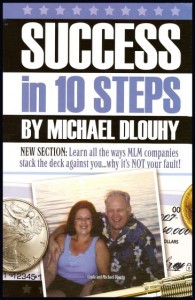 Success In Ten Steps
Network Marketing Success - Michael Dlouhy is the author of " Success-In Ten-Steps," co-author of "Chicken Soup For the Network Marketing Soul," and founder of "Mentoring-For-Free." He has been in network marketing for 28 years (full-time for 16,) and is the #1 Presidential distributor in his company.


Many of the so called Heavy Hitters refer to him as
"crazy"
because, in his e-book, he catalogs every lie they've ever told. What drives him is helping all those who've dreamed of financial freedom and were then used for batting practice by the
Sponsor Monsters
.
Listen. I know his motivation. Michael makes it no secret that he was abused as a kid. His Aunt Honey rescued him, loved him, and helped shape who he is today. Now he wants to be Aunt Honey to all those being mistreated in the MLM industry.
Michael spends 7-10 hours a week teaching everyone he can, even his COMPETITORS, every secret he knows. Whether you're just starting out, or a seasoned veteran, Michael will personally train you and your team to achieve network marketing success with any company. By doing it for free, it's an "in-your-face" to the Heavy Hitters.
Join in and write your own page! It's easy to do. How? Simply click here to return to Network Marketing.