San Francisco Waterfront Attractions - Fun Things To Do In San Francisco
by Patti Royster
(San Francisco Bay Area, California)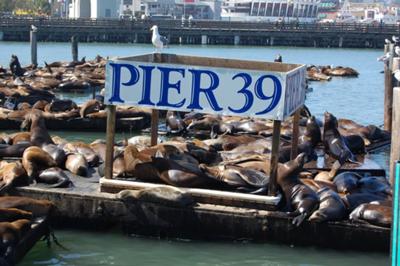 Pier 39 And The Sea Lions
Hi there. I love San Francisco. I love it so much I wrote a whole website about it. Have you ever been there? It's so much fun!


Here are the top 10 San Francisco attractions to visit along the waterfront when you go:
1. Alcatraz
2. Bike the Golden Gate Bridge
3. Fisherman's Wharf - eat a fresh crab cocktail - yum!
4. Pier 39 - go watch the sea lions
5. San Francisco Ferry Building
6. AT&T Park - where the San Francisco Giants play
7. Angel Island
8. Musee Mecanique - vintage arcade games
9. The new crazy Rocket Boat
10. Boudin's and pick up some fresh sour dough bread
If you want to learn more like where these places are located or where to stay visit my website at:
Go to www.San-Francisco-Waterfront-Attractions.com
You will find lots of pictures and useful information to make really help you leave your heart in San Francisco - and find some fun San Francisco attractions too!