The Free Toolbar That Pays You
by Michelle Brossia
(CA, USA)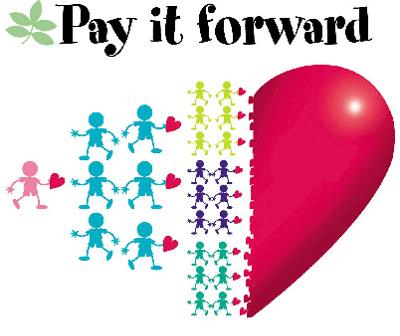 Paying it Forward One Click at a Time
Hi Everyone,


Thank you for joining the PowerBar Club. You have signed up under me and are considered my "down line". I have no marketing experience at all, and if you do…all the better.
However, we do not need marketing experience in order to succeed at this. I am still clicking on the ads (which are getting easier and becoming more fruitful), in addition to reading all that I can in my members area of the PowerBar Club.
If you listened to the whole video prior to downloading the PowerBar Toolbar, there have been some updates. If you didn't listen all the way through, please take a moment to do so, because it explains things a lot better than I can. There are also wonderful tools and tutorials listed in the member's area.
http://32211.powerbarclub.com
A few things that I have learned over the past few weeks are this:
1.) You can click a few ads a day and earn pennies per ad. There are also newer ads coming that net .10 per ad. I was getting a bit frustrated because I was only allowed to click on a few ads at a time and not really get anywhere fast. You can check back periodically throughout the day and click more.
However, with the new toolbar all of this is evolving for the better. If your current toolbar shows the Invite5 logo, you should uninstall it and reinstall the newer version which reflects the PowerBar logo. This way you and your contacts will have access to all of the tools and updated information offered to Club members. It's a lot, I know…but well worth it. We just have to give the developers a chance to perfect the system…and they are very, very close. We are all getting in on the ground floor of this great opportunity. Let's really give it a chance.
2.) The primary key to this program is not only clicking on ads from our toolbar, but also to share it with others who do the same. If you have five friends who install the bar, click ads and pass it on to 5 more friends…this is where we really gain momentum and can earn great profits.
PLEASE NOTE: It is very important when inviting friends to use your POWERBAR referral link, not your Invite5 referral link. (The link above is my personal power bar referral link. Yours should be similar but with a different number). This way, you will see everyone who joins under you right from your toolbars "share button".
3.) In addition to the Power Bar Club, I have found a great deal of assistance on a free website that promotes your referral link and gives you tips on how to further advertise, should you want, and get even more people
to sign up under you.
Remember, more people doing what you and I are doing, equals more money. This website is just loaded with helpful tools, advise and guidance, so be sure to check it out. It has been so helpful to me as a newbie.
Here is the link:
www.perpetualincomeprograms.com
Zac Hawkins is the founder of this site and quite experienced in marketing. He will answer any question you have personally. The great thing about this site is that it is another avenue of getting your name out there for others to see and sign up under you.
Once you sign up, click on the icon that says "group", then select "free power bar income" and scroll down to where you see that people have left messages requesting their power bar referral link be added to the list.
List your referral link (that's the power bar club referral link) and request that "your name" be added to the rotator. That is the list of names you see scrolling down on the page. New people come to this site daily and click on one of the names rotating. That name could be "you". Plus, many of them who come to this site have marketing experience!
Imagine getting people signed up under you that have a large network of marketing contacts? That is happening! I read the discussion boards there and members are growing their downlines daily.
When you sign up, please add me to your "friends list". This way, we can keep in touch and help each other along in our journey.
There is also a free advertising page right on the site complete with step by step instructions for posting your very own ad.
Believe me, I am clueless when it comes to this kind of thing, yet after reading, even I was able to come up with a few ads to post here and on a few other free online classifieds sites.
If you'd like the links, I'd be more than happy to forward them to you. I would also appreciate any free advertising sites you come across.
In closing, I hope I have answered a few of your questions. I realize that this being a new program may scare some people off.
I just hope that you give the program…and yourself a chance to really see the potential it has to offer. Really take a moment to navigate the Power Bar Club Members area, and check out the Perpetual Income Programs website. Then decide if this is for you.
Thank you for your interest in this great opportunity. I truly believe in this program and its future success. I hope we can learn and grow together. Have a great day!
Sincerely,
Michelle Brossia
CLICK HERE to Learn More About the Toolbar That Pays You