The PowerBAR Club is a FREE and Easy Paid to Click Program
by Pamela
(Selden, NY)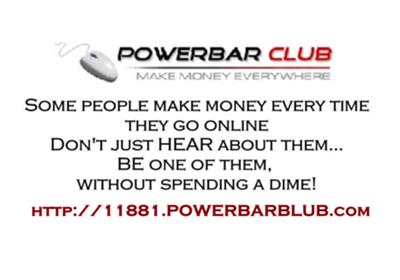 PowerBAR paid to click FREE Program
I have actually signed up for The PowerBAR Club and I have some info about the program and hope to clear up some things for you.


The site is still in Pre-Launch status so you can only click on a certain amount of ads per day called "Training Ads". The site is due to launch soon.
They have allowed people to still get paid for their clicks during the Pre-Launch phase so we can see how everything works and help them work out the bugs and kinks. The speed and number of ads to view is supposed to be dramatically increased after the launch.
Once you sign up for the program (again ALL FREE) you can view the video from the first Webinar they had Sept 21 and there is a LOT of information in that video.
This was where I found out about the Pre-Launch Status and the Training Ads and from what they said the sign-ups are growing by thousands per day.
This is proven by the affiliate link member number you are given when you sign up. My link is 11881...and now people are getting assigned member numbers over 23000 in just 3 weeks!
I am not one that normally signs up for these things but SOMETHING about this just seems like it will work AND IT'S FREE...and they repeat that over and over again in the videos. What have you really got to lose?
I signed up a week ago and they do not spam your e-mail and I dont receive a lot of crap that will clog my inbox (in fact the ONLY thing I got from them was a welcome e-mail and a confirmation when I signed up for the Webinar)
In all, I can't say if it will work or not but I think it has the Potential to do same amazing things. Take a look for yourself and be the judge. It does not get better than FREE and you have Absolutely NOTHING to lose.
And won't we all be surprized when it WORKS!!!!
Pam C.
Click
HERE
to check out The PowerBAR Club
Join Me
and have your friends join you...with a time investment of 5 minutes a day you can really make this program work for you.
Good Luck to US!!
Pam C