Unlimited mobile phone air time, all the time, flat $79.95/mth pays $10/mth/subscriber
by jim chow
(vancouver)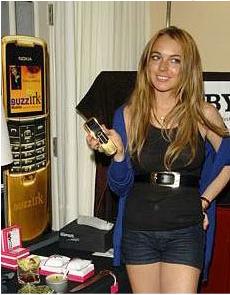 lindsay with buzzirk unit
New technology from zer01 mobile and buzzirk mobile beats cellular, no limit air time, more features, no data cap, download movies at 180 Mbps or 2 hr movie in 3 mins - all day.


Won best product of show CTIA 2009, wireless trade show.
buzzirk mobile can replace your cable TV, internet connection and cellular phone - for lower cost and better performance and more features and pays the most - plus forced matrix bonus...
my digital life @ $79.95/mth
- Utilizes New Wireless Spectrum 3G PLUS (Advanced Wireless Service).
- Truly UNLIMITED Voice, Internet, Text, Data, Roaming & Email (No Acceptable Use Policy).
- High Speed Internet - Up to 180 Mbps download speed. (Connect your phone & computer and surf the Internet).
- No Credit Checks and No Contracts - Pay as you go service.
- Flat rate of $79.95/month Domestic. (price is ALL inclusive)
- Currently open to make and receive calls in US, and Puerto Rico.
- Flat Rate $89.95 International - Call 42 other countries. (price is ALL inclusive)
- Origination in Canada, Australia, and other countries coming soon with NO added costs.
- Instant Message from phone - Yahoo, AIM, Google Chat, MSN, ICQ.
- Full Web Browser Interface - Same Look & Functionality as your computer browser.
- Download movie selections in minutes. (Fee based & Optimum connectivity)
- Watch Up to 1,000 TV Channels on your Phone (Subscription may be required).
- Live Video Conferencing (On select phones).
- Compatible with Windows Mobile 6 based Smart Phones. (Android & iPhone coming soon)
- Utilizes Multi Spectrums with Seamless handoff to 3G, WiFi, Edge networks and more.
- Only Fiber Optic Infrastructure with no carrier restrictions or limits.
- Quad, Dual Band, GSM network.
- Mandy - Virtual Personal Assistant (coming soon).
- Patent, Content application platform (Applications can be added on the fly).
- Porting (Transfer your Current cell phone number).
- Call Waiting - Call Forwarding - Call Record - Caller ID
- Virtual Phone Numbers
- Run Spread Sheets and PowerPoint Presentations - on your phone
- Two-Way Video Phone
- Phone-to-Phone File Transfer Custom Messages - Distinctive
- Ring - Call Block (MANY more options)
- Earn Free Phone service and Residual Income. (see Opportunity in main menu ).
- And so much more...
You can get your hands on a real working buzzirk mobile smart phone to touch, feel, try and hear. The phones are in the field, in operation and they sound great. The first units are going to upline with distribution working its way down.
Service may not be available at all times in all places.
Rate Plan Details
Minutes to be used anytime Unlimited
Minutes used on nights or weekends Unlimited
Minutes from your mobile phone to another mobile phone (Outbound Mobile) Unlimited
Minutes from another mobile phone to your mobile phone (Inbound Mobile) Unlimited
Long Distance within the continental U.S.A. Unlimited
Roaming Unlimited
Additional minutes $0.00 per minute
One-time activation fee $30.00
Contract length Month to Month
Earn $10/mth/subscriber. Highest payout in industry. Earn more in 3 x9 forced matrix.
my digital life @ $79.95/mth