Will Donald Trump Run For President?
by Zac Hawkins
(USA)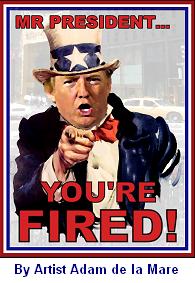 Trump Is Running For President
No doubt Donald Trump will run for president and most likely win. He is leading in the polls and hasn't even announced his candidacy yet!


Trump's announcement will come before June 1st 2011, and I expect him to jump in the polls by 10-20% at that time.
With our economy in it's current condition, and it becoming extremely evident Obama wasn't ready for the job, America is ready for a strong leader!
Who better to get our economy on track than one of the greatest business minds of all time?
Check out this Trump for President video and our Trump election forums to voice your opinion.
Elect Trump President
When I first heard Donald Trump was running for president, I had my reservations. But after hearing his interviews with numerous journalists and talk radio hosts, I've come to know he is really serious this time.
Personally I think he has been strategizing his campaign for some time now.
American's are responding to the thought of him as president in a very positive fashion. We all know he is a man that can get things done.
And won't it be refreshing to have someone leading this country who says what they mean and does what they say?
Do you have any doubt Trump won't take any bull from those who have been taking advantage of us for decades? (ie. China, OPEC, etc)
Check out the site I built to help get the public engaged with Donald Trump running for President.
www.trump-4-president.com
You'll find our Trump Fanpage, Twitter and Youtube channels there as well.
I'm interested in all opinions so let's hear your thoughts.
Good Day!
Zac Hawkins