You don't learn that in school ! The 4 missing life skills you can't do without.
by Jamila Diallo
(Jeddah,Saudi Arabia)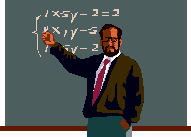 The bottom line is school ddoes not prepare for life.


We go to school to learn to be employees.
Therefore, we miss out on vital life skills, such as the ability to manage your own mind, developing high self esteem,appreciating life and how to be successful.
I believe those are the most important skills, because if you learn them, they will make a tremenduous impact on your life. You will be the king of person who thrives no matter what.
Join in and write your own page! It's easy to do. How? Simply click here to return to Ebooks.