Welcome to the PowerBAR Club Forum...Look Around...Stay awhile!
by Pamela Cunningham
(Selden, NY, USA)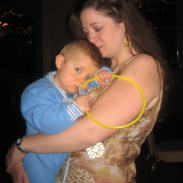 P Cunningham PowerBAR Club Forum Moderator
Welcome One and All! My name is Pamela Cunningham and I am one of the PowerBAR Club Forum Moderators.


Please look around and feel free to comment, ask questions or just lurk and absorb the info. I hope that I will be able to help all of you with any questions you may have.
But if I can't, there are so many others involved here that you will not have a problem finding the answers you are looking for. This forum is a great tool to utilize as we are all working towards the same goal!
It is not a competition and the unbeleivable Team support and help you will receive here is worth its weight in gold.
A little background on me...I am a mother of a beautiful 2 year old boy and wife to the most fantastic man in the world! (says me, that's who! LOL) & I do my best every day to find ways to make our lives better. The PowerBAR Club is like no other program I have ever seen. And IT'S ALL FREE!!! What can be better than that?
Please join me in this amazing endeavor and see for yourself.
Want more details about how the PowerBAR Club REALLY works? Check out My PowerBAR Club Blog
Making life better one click at a time!
Pamela Cunningham
Moderator
Click Here to Join My PowerBAR Club Team
Are you involved in a Non-Profit? A Business Owner? CEO? CFO? Learn how you can monetize your exsisting subscriber database and earn a monthly income for FREE Click Here to Sign up Your Company
Leave a comment below if I can help you in anyway.
Be sure to leave a comment when you join, so I can help you build your new free powerbar club business right here!
Best wishes,
Pamela